Driving School in Glen Waverley With the Best Training Curriculum
Are you looking for a driving school that is home to a consolidated driving curriculum, which is a perfect combination of classroom and practical sessions? Well, you have SEM Driving School at your service! With some of the best mentors with loads of knowledge and experience, we are, indeed, one of the fittest driving schools in Glen Waverley that will turn you into one of the most dependable individuals at the wheel, and that also in hardly any time! And you can be sure of cracking the driving tests at one go when you are trained by our mentors.
To Us, Safety is the Main Priority
Yes, this is one of the USP of our training curriculum. While we offer a training module that deals with all the technical details of driving, we put maximum emphasis on your safety and security. Thus, we provide you in-depth knowledge about the latest traffic rules and regulation, as we promote defensive driving and stick to the safest measures to ensure you are always safe.
While our driving lessons in Glen Waverley help you to be safe at any given point in time, while you drive, it also ensures that you are never at the bad book of the authorities. In the nutshell, our driving curriculum will all the way to train and educate you as per today's driving compulsions.
Our Mentors Are Amongst the Best
We are home to some of the best and the most professional driving instructors in Glen Waverley. Firstly, they are accredited and have unfathomable skills and knowledge about driving. Secondly, and most importantly, when it comes to training you, our mentors will take a highly professional approach, which will help you come in terms of our training effortlessly.
They are cordial, friendly, warm, and sincere in approach – always more than eager to resolve your queries. Their training will be easy paced that makes sure that you never have to rush through the training. This makes you feel comfortable as well as confident. In fact, this is one of the major reasons why our trainees would crack the driving tests on the first attempt – always!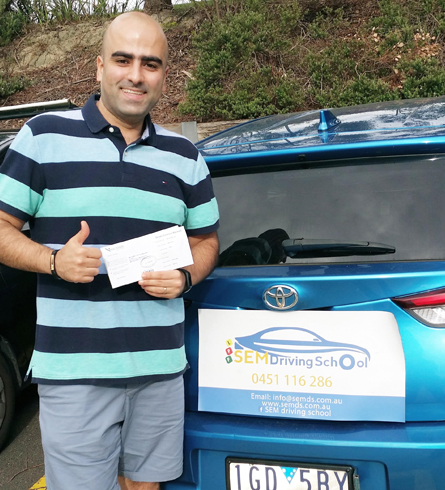 Call Us Now for Further Details!
Thus, do not wait any longer! If you want to know further details, simply get in touch with us at 0451116286 and discuss with our specialists to know why we make a difference in the fraternity of driving schools.
Single lesson
45 minutes

$42

60 minutes

$53

90 minutes

$83
5 Lesson Package
45 min x5 Driving lesson

$195

60 min x5 Driving lesson

$250

90 min x5 Driving lesson

$395
10 Lesson Package
45 min x10 Driving lesson

$390

60 min x10 Driving lesson

$490

90min x10 Driving lesson

$750
We provide lessons in the following areas:
Wheelers Hill
Burwood East
Mount Waverley
Springvale
Vermont
Forest Hill
Mulgrave
Clayton