Quality Lessons from Accredited Instructors of the Best Driving School in Keysborough
Aspiring to be a flawless bloke at the wheel? You need to undertake comprehensive driving lessons from a reputed driving school. What better name can it be than SEM Driving School? With years of experience and some of the best driving mentors, we are one of the most reputed and competent driving schools in Keysborough!
Your Safety is Our Numero Uno Priority!!
Indeed so! When you have enrolled in SEM Driving School, your safety and security will be our topmost priority – always! That is why, all our training cars are impeccably maintained, so much so that they are always at the pink of health and glory at any given point in time. This ensures your safety undoubtedly.
Moreover, our highly seasoned mentors are conversant with the latest traffic rules and regulations, thus ensuring that they abide by them while imparting training. This ensures that your safety is never at stake nor are you booked by the authorities when you are a licence holder.
Our Instructors Are Seasoned and Certified!
All our professional driving instructors in Keysborough at SEM Driving School are not only experienced but are qualified well. With years of experience under their belt, they know what it takes to be a quality mentor and would take an extremely cautious step to ensure that you are always at ease while taking the training.
They are patient, warm, and cordial, and are extremely careful and caring to resolve all your queries. They would provide the training at an easy pace so that you are always at ease, and can take your own time to master the skills that are being taught.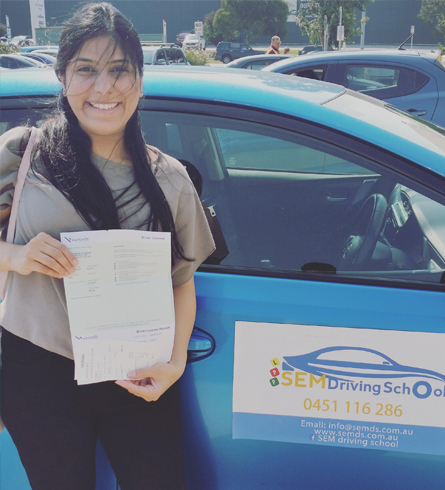 A Training Module That's Acceptable to All
As per the policy that we follow we do not have any age limit when it comes to enrolling trainees at our Keysborough driving school. We are cost-effective & transparent in dealing with our trainees and that makes us one of the most reputed driving schools.
Single lesson
45 minutes

$42

60 minutes

$53

90 minutes

$83
5 Lesson Package
45 min x5 Driving lesson

$195

60 min x5 Driving lesson

$250

90 min x5 Driving lesson

$395
10 Lesson Package
45 min x10 Driving lesson

$390

60 min x10 Driving lesson

$490

90min x10 Driving lesson

$750