Driving School in Mckinnon – The Best Place for you to Master Driving Skills
SEM Driving School is the name that comes up one of the best driving schools in Mckinnon, which is home to some of the best and the most prolific driving mentors who will use all their skills, knowledge, and experience to provide you immaculate driving lessons to bring the best out of you in terms of driving skills.
What Makes Our Driving Lessons So Unique?
The driving curriculums that SEM Driving School comes up with are strategically developed after consultations with highly skilled and experienced experts. Hence, they are not only expansive, and cover all the facets of driving, its technicalities, and the present traffic rules that prevail. Thus, our driving lessons in Mckinnon are all-inclusive that even cover the mechanical biology of the vehicles, so that you gain the elementary technical knowledge of fixing issues if they crop up in the midst of the journeys.
More importantly, they are a perfect combination of classroom and practical sessions, which help you to get a real-life feeling of driving live. This is one of the reasons why our trainees are able to crack the tests at one go.
Safety First… Always!
We ensure your safety security at any given point in time, while you train under us, and hence, we guarantee that every training vehicle we have in our fleet is at the pink of health and conditions. We also abide by the traffic rules and regulations that prevail while imparting training so that you get familiar with them.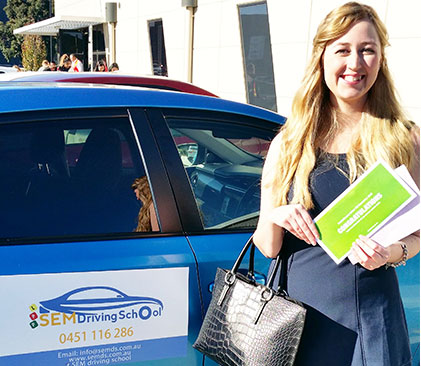 Our Trainers are The Best of The Lot
Indeed, we have in our team some of the best driving instructors in Mckinnon who are professional enough to go out of their ways to impart training at an easy pace, which will make you feel at ease when it comes to learning the nitty-gritty of training. They will go all the way to resolve all your queries and help you gain confidence as you keep on mastering the skills.
Call Us Now…..Don't Look Beyond Us!
What makes you think and wait? Wait no more, as SEM Driving School is the best in terms of generating trainees who crack the test at one go. Just CONTACT US now to see how we can help you out.
Single lesson
45 minutes

$42

60 minutes

$53

90 minutes

$83
5 Lesson Package
45 min x5 Driving lesson

$195

60 min x5 Driving lesson

$250

90 min x5 Driving lesson

$395
10 Lesson Package
45 min x10 Driving lesson

$390

60 min x10 Driving lesson

$490

90min x10 Driving lesson

$750
We provide lessons in the following areas:
Ormond
Bentleigh
Bentleigh East
Murrumbeena
Oakleigh
Moorabbin
Carnegie
Heatherton
Caulfield South
Oakleigh East
Oakleigh South