Driving School in Noble Park – Home of the best Mentors You Can Look For!
Are you looking for a driving school in Noble Park that is home to some of the best driving mentors who can bring the best driving acumen out of you? SEM Driving School is the name where your search should come and rest at! Indeed with a formidable experience to our credit and with some of the best driving instructors up our sleeve, we are one of the most trustworthy names when it comes to offering driving lessons!
Our Instructors Are the Best in Terms of Quality
Your dependability and expertise as a bloke at the wheels will depend to a considerable extent on the calibre of training that you have received from your driving school, which in turn will depend upon the class of the mentors who have trained you. This is where we at SEM Driving School score over the other names. Our driving instructors in Noble Park are not only experienced, qualified, and accredited, but they also follow a professional approach while conducting training. They are cordial and passionate, patient, and jovial enough to ensure that you are always at ease during the training sessions. They will always take questions from you, explain the technicalities gleefully so much so that it helps to gain confidence, as you learn things. All these come in handy when you appear at the driving test. In fact, this is one of the reasons why our trainees always crack the test at one go!
Our Training Lessons Are All-inclusive
Another driving force being our success is the driving lessons in Noble Park. Our driving lessons are inclusive that cover not only the technicalities of driving but the latest traffic rules and regulations so that you are never caught off guard. Plus, they are a perfect combination of classroom and live driving sessions that help you prepare technically as well as mentally fit to appear for the test.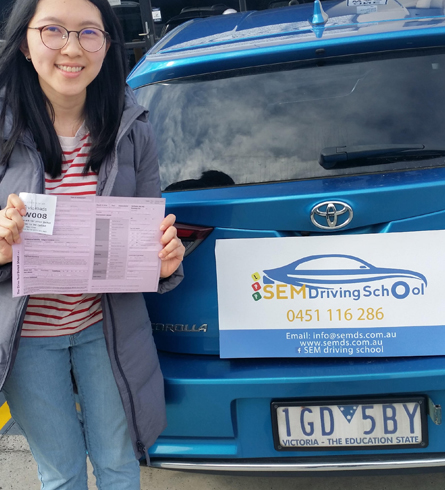 Don't Think Any Further… Get in Touch With Us as We Are the Safest!
Are you skeptical about the safety factor? Don't be, for our training vehicles are all impeccably maintained so that your safety is never at stake! So CONTACT US now without further delay. Get to know from us further details!
Single lesson
45 minutes

$42

60 minutes

$53

90 minutes

$83
5 Lesson Package
45 min x5 Driving lesson

$195

60 min x5 Driving lesson

$250

90 min x5 Driving lesson

$395
10 Lesson Package
45 min x10 Driving lesson

$390

60 min x10 Driving lesson

$490

90min x10 Driving lesson

$750
We provide lessons in the following areas:
Springvale
Dandenong North
Mulgrave
Keysborough/li>
Clayton
Oakleigh
Heatherton